Therapy can benefit just about everyone. And it seems as though most people recognize how effective therapy can be. In a recent poll, 91% of respondents said that they would probably work with or suggest a mental health counselor if they or a loved one were experiencing a problem. But 70% of the American population has no access to traditional, in-office mental health treatment.
Online therapy fills those gaps. It provides affordable access to counseling for people with busy schedules, transportation problems, no health insurance or odd work hours. Anyone with access to the internet can participate in online therapy. Clients have access to a large network of professionals and can choose a therapist who matches their preferences instead of limiting themselves to the in-office therapists near them.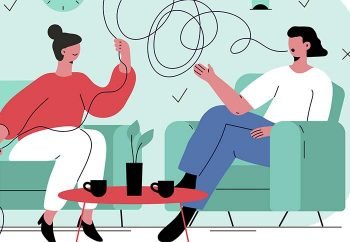 Need someone to talk to ?
We help you find your psychologist
Best online counseling services
The best online counseling services offer the type of counseling that you need. This differs from person to person.
To identify some of the characteristics that you desire in an online therapy platform, ask yourself the following questions:
• Do I want to work with a coach or a licensed professional?
• Would I prefer individual, couples' or group sessions?
• Would I rather text with my therapist, talk to them on the phone or communicate face-to-face via a video call?
• Do I feel more comfortable paying for a subscription or per session?
Let your answers to these questions guide your research when you're looking for the best online counseling services.
Some of the features of the best online counseling services include:
• Access to a wide variety of therapists and treatment options
• Affordability
• Ease of access
• Transparency about the site's security and privacy
• Communication options that work for your schedule
• A procedure for matching you to the ideal professional
One of the benefits that many people don't think about when it comes to online counseling services is that clients often have more consistent access to their therapist. Many local, in-person therapists don't offer sessions between office visits. You may not even be able to check in with them outside of a scheduled appointment.
The best online therapy services are set up so that you can communicate with your therapist at any time. This can help you remember your coping skills, stay accountable for your goals and mitigate small concerns before they develop into bigger problems.
BetterHelp
BetterHelp offers counseling, coaching and therapy for individuals who want to enhance the quality of their life. It hosts therapists with experience in a broad range of issues, such as anxiety, depression, eating disorders, sleep problems, family conflicts, relationship struggles and LGBTQ matters.
One of BetterHelp's standout features is that it offers almost every type of communication option. You can message with your therapist throughout the week and schedule one-on-one appointments once a week. Real-time appointments can be conducted through video conferencing, text messaging or audio chat.
Regain
Regain is an online therapy that is dedicated to couples and relationship issues. The platform makes it easy for you and your partner to work with your therapist without physical or time constraints.
This platform relies on messaging for communication. Once the primary client creates an account, they are assigned a room in which they can communicate with their therapist via text messages. They can invite their partner to this room at any time. All parties with access will be able to send and receive messages. Your therapist will respond to all messages in a timely manner. You can set up your desired pattern of communication when you begin working with your therapist.
If you want to meet with your partner and a therapist face to face, this may not be the platform for you. However, many couples find it difficult to coordinate real-time appointments. Messaging helps you start couples counseling without the stress of scheduling anything.
TeenCounseling
TeenCounseling is designed for minors who want to work with a licensed counselor. A parent sets up the account and invites the teen to it. From there, the teen can have secure and private communication with the therapist via the same channels as BetterHelp. Parents do not have access to their adolescent's room or communication with the mental health professional.
Many teens could benefit from therapy to manage the unique stressors of their age group. However, their busy schedules often prevent them from getting help. Online therapy makes counseling for teens more accessible and convenient.
Choosing the right therapist
Online therapy platforms pool together thousands of therapists. When you subscribe to a service such as BetterHelp, you must answer a questionnaire that asks you about your goals and preferences. Some of the questions inquire about your reasons for therapy and mental health problems in general. Answering these honestly will help you match with a therapist that specializes in treating the symptoms and concerns that you have.
You'll also be asked more specific questions about the characteristics of your ideal therapist. You can indicate that you'd like to work with a counselor within a certain age range, of a specific gender or with an identified religious preference.
Selecting the right therapist is essential for effective treatment. Some clients may want to work with a therapist that is experienced with LGBTQ issues. Depending on your concerns, you may need a professional who is sensitive to the issues that affect you.
After you have been matched with a therapist, you should keep an open mind as you work with them. The right therapist should:
• Be an active listener
• Remain engaged and attentive while you speak
• Validate your experience without making value judgments
• Promote solutions that are right for you
• Challenge you respectfully
• Earn your trust
If your therapist isn't checking these boxes after a few sessions, many platforms allow you to request another one. It's much easier to switch therapists online than it is when you're working with local practices.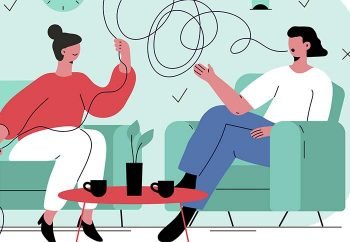 Need someone to talk to ?
We help you find your psychologist
Are online therapists qualified?
There is a wide variety of wellness services available online. Many internet coaches offer support but have no certifications. Online therapy services only work with licensed, certified professionals. The best online counseling platforms should offer information about therapist qualifications on their website.
BetterHelp therapists are licensed and accredited. They're required to have a master's or doctorate degree in their field of practice. BetterHelp vets each therapist to ensure that they:
• Have been certified by their state's professional board
• Hold an appropriate degree in their field
• Have at least 1,000 hours and 3 years of experience
• Can show proof of licensure
• Provide proof of identity
• Pass a case study exam
• Participate in a video interview
Only 20% of the therapists who apply to work with BetterHelp are accepted. The company's rigorous approval process ensures that clients have access to top-notch expertise.
Clients can access the full licensing for each provider on the BetterHelp website. This transparency helps inspire confidence in the therapist-client relationship and allows users to do their own research to select the right therapist.
Some of the types of therapists that offer their services through online counseling platforms include:
• PhD/PsyD – Psychologists must have one or two years of postgraduate education. They have been extensively trained in therapy methods. Some are also trained as researchers.
• LMFTs – Licensed marriage and family therapists have a master's degree in a field related to marriage and family counseling and are trained in facilitating interpersonal relationships.
• LCSW/LMSW – Licensed clinical social workers have a master's degree and psychotherapy training so that they can provide counseling in a clinical setting.
• LPC – Licensed professional counselors have similar education and training backgrounds as LCSWs. They often provide therapy in private settings.
In addition to the curricula that is specific to each of these specialties, mental health professionals can be trained in a wide variety of treatment methods. There is no one-size-fits-all treatment for psychological and emotional issues.
Therapists must draw from their resources to address a client's problems. Those who are trained in a particular specialty may be suitable for some clients but not others. If you go through online therapy, you may have better access to a therapist with the credentials and experience that match your needs.
Affordable online therapy
Lack of comprehensive health insurance is often a barrier to mental health treatment. If you don't have health insurance or coverage for psychological services, you could pay a few hundred dollars for each office visit. Online therapy is usually offered as a subscription or package-based service that is more affordable than many in-person options.
Try it yourself
You can check out online counseling services before you decide which one is right for you. Head to the websites with your goals in mind, and read their FAQs and About sections. Some platforms will allow you to answer a questionnaire for free.
Make sure that you're aware of the service's cancellation policy. Many will let you cancel at any time. If you try a platform and aren't a big fan, cancel your service. You can always try a new one.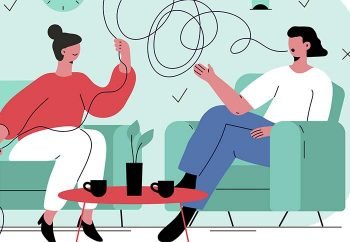 Need someone to talk to ?
We help you find your psychologist