When the Internet started to take off in the mid-90s, online therapy became readily available to the general public. However, it took some for people to realize the effectiveness and potential savings of online therapies.
Online therapy offers a convenient way to save money and time. Instead of paying hundreds of dollars per hour, taking off from work, and commuting several miles, it offers an extremely flexible path to recovery.
BetterHelp, for instance, charges less than $100 a week to offer online therapy. Besides the low-cost healthcare, patients also get access to a deep pool of highly qualified therapists from around the nation.
Ultimately, the total bill will depend on the mode of therapy, payment method, and the chosen package. Despite different payment plans, there is no doubt that online therapy costs only a fraction of a visit to a therapist's office.
To give you some idea of the cost, here is a brief insight into the fee structure of the four industry leaders in the online therapy industry:
BetterHelp
Overview
Founded in 2013, BetterHelp is one of the largest online portals offering access to almost 24,000 licensed therapists. It serves both the general public and large corporations. The website gets positive reviews and it is regularly cited by major health publications such as APA, American Psychology Association.
An independent study conducted by Berkeley Well-Being Institute suggests that 94% of BetterHelp patients prefer the company over face-to-face consultations. The high satisfaction rate can be attributed to a 98% progress rate achieved by patients who use the website.
Cost of therapy
According to the BetterHelp website, users are charged anywhere from $60 to $90 per week for online therapy. The actual rate depends on the location of the patient and the number of therapists available for selection.
Members can also save by subscribing to long-term membership plans. For instance, the weekly cost of $80 is reduced to just $65 if the user is willing to pay an upfront monthly fee. Subscribing to a quarterly plan may decrease the price further.
Irrespective of the price structure, every member gets unlimited text messaging and at least one live video chat per week. Patients requiring intensive therapy and extended video interaction can pay an additional sum.
Financial assistance is available to qualified patients. If selected, you may get a reduced rate of up to $48 per week based on the existing financial conditions. While the company does not accept insurance, the lower weekly rates favorably compare to any co-payments you're likely to make to your insurance company.
BetterHelp accepts all major credit cards and PayPal.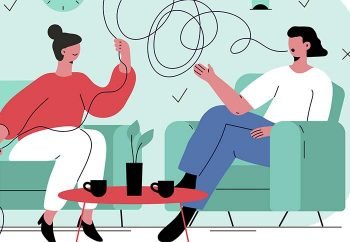 Need someone to talk to ?
We help you find your psychologist
7Cups.com
Overview
7Cups is an innovative platform that offers free and paid therapy assistance to its users. The unique business model encourages trained volunteers and professionals to give advice and share their experiences without charging any upfront cost. Apart from free services, the paid therapy is overseen by hundreds of licensed therapists.
Stats displayed by 7Cups.com suggest that almost 100% of research participants will recommend 7Cups to deal with perinatal mood disorders. Likewise, 85% of users think that 7Cups trained volunteers help them recover faster, and 70% feel that the 7Cups online therapy model is better than traditional therapy.
Cost of therapy
The company charges a fixed fee of $150 per month for consulting with a licensed therapist. This gives users access to text messaging. A therapist will respond to any inquiries once or twice a day from Monday to Friday.
The amount of correspondence is mostly limited to two messages per day. However, participants are likely to get comprehensive answers for their queries containing step-by-step instructions on how to recover from a particular psychological mindset.
Depending on individual goals, participants can also upgrade to premium membership to cope with anxiety and stress during or after the therapy. The monthly subscription gives access to the 7Cups Collection.
The collection is composed of a series of content designed to educate and provide guidance on a diverse range of psychological symptoms. At the time of writing, the subscription cost of the premier self-study collection package is $12.95 per month.
To get the ball rolling, try talking to 180 certified psychologists and trained volunteers free of cost.
Talkspace
Overview
As one of the largest companies in the online therapy industry, Talkspace has a lot to offer. The Talkspace Room is a purposely designed chatroom, which offers 24/7 access to users without charging any extra fees to change therapists. Patients can access licensed professionals - all of whom have at least 3000 hours of clinical experience.
Quoting reputable sources such as the Journal of Telemedicine e-Health and Journal of Clinical Psychology, Talkspace prides itself on being more effective than traditional therapy. Research suggests that approximately 80% of patients think that Talkspace is better than traditional therapy. Similarly, 44% of Talkspace clients experience a clinically significant change within 8 weeks of therapy compared to only 25% of patients in a traditional face-to-face setup.
Cost of Therapy
Talkspace offers three subscription plans for online therapy. Depending on the chosen plan, patients can expect to pay anywhere from $60 to $91 per week.
Each plan, including Therapy Plus, gives access to text messages five days a week. Premium and Ultimate plans provide additional benefits such as live sessions. A subscriber to a premium plan is entitled to 30 minutes of therapy once a month. If someone requires a more streamlined interaction, the Ultimate plan will cover four live sessions of 30 minutes each.
Subscribing to long-term plans can offer additional savings. For example, the Therapy Plus plan will cost just $48 per week if billed every six months. In this case, the total cost is around $1248. For the convenience of its clients, Talkspace has partnered with major insurance companies that include Humana, Cigna, Premera, and Blue Cross Blue Shield.
Before undertaking any commitments to use your insurance, make sure to read the terms carefully because most clients will need to co-pay a minimum amount, which may not make any financial sense.
MyOnlineTherapy.com
Overview
MyOnlineTherapy is a UK-based platform dedicated to offering online video therapy. It partners with some of the best psychologists in the nation to offer services to patients around the world. Unlike the other services in this list, MyOnlineTherapy.com only offers therapy through face-to-face video interaction.
The process starts by completing a free online assessment used to match patients with a qualified therapist. A paid 30-minutes video consultation follows the initial assessment. Users can also select a preferred psychologist after reading their profiles on the MyOnlineTherapy website.
Cost of therapy
A simple pricing structure ensures transparency. Patients are charged £49 and £99 per session for a 30-minute and 50-minute consultation, respectively. All of these sessions include a free online assessment, live conversation, and handpicked helpful articles.
It is important to realize that 30-minute sessions are only recommended if you meet certain requirements based on the initial observation. Therefore, most users should expect to pay £99 for a 50-minute session. However, the first session is always 30 minutes in duration, and it's a snippet of what to expect in the future. Under certain circumstances, users may add smaller blocks of video sessions to extend the video call.
For those who like to express themselves through written conversation, the company also offers a 30-minute live chat session charged at £49.
For long-term needs and regular assistance after the therapy, users can also subscribe to a weekly session. For only £75, patients are entitled to one comprehensive text message from the psychologist every day, five days a week.
Final thoughts
Online therapy sessions are less expensive and save plenty of time.
Independent research and clinical studies confirm that online therapy is as good as traditional therapy. Therefore, it certainly makes sense to try any one of the four services listed above. Online therapies are also gaining in popularity because many people facing mental issues want personal space before they can trust a total stranger.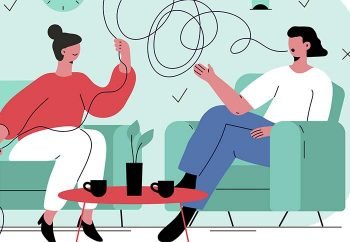 Need someone to talk to ?
We help you find your psychologist
The verdict
Due to different business models and price structures, comparing different online therapy providers is not an easy task. This is precisely the reason we selected top-notch providers that mostly complement each other.
BetterHelp vs. Talkspace
BetterHelp and Talkspace provide somewhat identical services, and they're also the leading competitors in the online therapy industry. BetterHelp offers the largest pool of qualified therapists in the nation. It also gives the option to use PayPal. In contrast, Talkspace is a great alternate if you intend to use insurance as your primary mode of payment.
7Cups and MyOnlineTherapy
7Cups is more suited to patients who require extensive therapy over long periods. It is also the only option to get free advice from trained professionals. However, 7Cups doesn't offer video session and the price is on the higher side for comparative services.
Similarly, MyOnlineTherapy only offers live sessions but they're expensive compared to BetterHelp and Talkspace. If you insist on live therapy or you're based in Europe, the service may suit you.
Here is the final verdict:
Best Overall: BetterHelp
Best for Free Advice: 7Cups
https://www.apa.org/topics/telehealth/online-therapy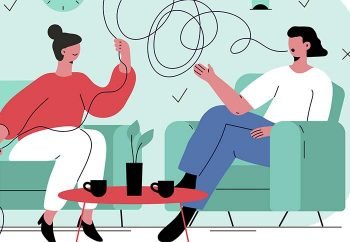 Need someone to talk to ?
We help you find your psychologist