If the physical side of your relationship isn't as fulfilling as you'd like it to be, you're far from alone. People around the world struggle to achieve the desired level of intimacy in their romantic encounters. Luckily, there is a path to a better sex life, and it runs through therapy. By working with a sex counselor or sex doctor, you can figure out exactly what's holding you back. Then, you can work to amend the situation and get your love life back on track.
In this day and age, many folks don't have the time to sit down for weekly therapy sessions. That's where online counseling can be such a game-changer. By accessing professional counselors through an online portal, you can get the help you need without disrupting your normal routine. Putting the spark back into your relationship has never been so convenient.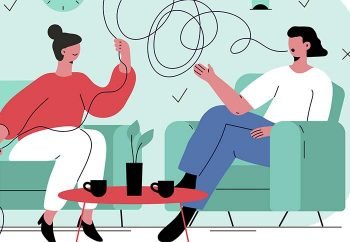 Need someone to talk to ?
We help you find your psychologist
The premier online sexologist- ReGain
Many platforms offer online sex counseling, but some are better than others. ReGain, with years of experience and a large team of professional therapists, is the best option for anyone determined to solve their intimacy issues. The site's layout makes it easy to contact your therapist, providing the type of convenience and availability you need. The weekly subscription model, meanwhile, allows you to pay for the service as long as you'd like. ReGain's model is the best for producing meaningful results in a busy world.
How does sex counseling work?
ReGain provides the main benefits of a traditional therapist in an online setting. The private chat feature gives individuals and couples an intimate space to discuss their issues. Once the dialogue begins, the therapist will guide you through the process of building a true sense of intimacy. Sign up for the platform to discover how ReGain can work for you.
Starting a subscription
ReGain operates on a subscription basis. That means you pay by the week rather than by the session. This is an excellent model because it gives you constant access to your therapist. While they might not answer immediately, you can count on a timely response as long as your subscription is active. Once you've started your subscription, ReGain will match you with a therapist and create a private chat room. If you're looking to undergo therapy with a partner, you'll both have access to the chat along with the therapist. This model recreates the intimacy and confidentiality of a standard counselor's office.
Communicating with a therapist
Once you've been assigned a private chat room and a personal therapist, you can communicate on the platform as often as you'd like. This model provides the client with considerable flexibility. If you'd like to engage in occasional in-depth conversations throughout the week, you'll be able to do so when your therapist is available. If, on the other hand, you prefer occasional messages sent here and there, the subscription model makes this type of communication possible. Ultimately, you'll have the freedom to use ReGain's services in whatever way works best for you.
Opening a dialogue
The first step in the actual counseling process involves talking about your issues. Discussing sex can be difficult. There's a good chance embarrassment has prevented you from fully stating the issue even to yourself. A trained and experienced therapist will know how to facilitate an honest, productive conversation. This type of open dialogue will allow the truth of the matter to come forth.
Getting to the root causes
While you're discussing your problems around sex, the therapist will search for the hidden causes. Oftentimes, it's difficult for a layperson to see why they're having certain issues. An experienced therapist has seen these types of situations before, and they'll know how to identify the deep-lying culprit. Understanding what's causing sex-related issues will allow you to solve the problem at its source.
Finding Solutions
Understanding what's causing your problems only represents half the battle. Once you know what's going wrong, you need to do what you can to fix it. This is where a therapist's expertise is essential. Experienced counselors like those at ReGain will know how you can address your chronic sex-related issues. They'll be able to suggest strategies that could help you build a sense of intimacy in the bedroom. These techniques are often the keys to building a more fulfilling relationship.
Putting a plan into action
Once the therapist has their say, it's on the client to put the plan into action. ReGain's subscription model allows you to stay on the platform while attempting the strategies your therapist has suggested. This means you can message them after the fact and let them know how it went. Such an open dialogue allows you to build on any successes or regroup when things don't go as planned.
What makes sex therapy with Regain stand out?
There are certain aspects of ReGain's business model that make the company stand out from other online therapy providers. A commitment to excellence radiates through the entire operation. With experienced therapists and a winning format, ReGain offers the best online sex counseling on the market.
Professionalism
With ReGain, you can count on receiving top-of-the-line service. The platform is designed to treat clients fairly, with the payments only starting when you've been matched with a therapist. Clients always receive their therapist within a few days of signing up, and sometimes they can begin talking after only a couple of hours. This level of professionalism is maintained throughout the client-company relationship. You can count on your therapist responding promptly, allowing you to develop the type of dialogue you need to get your relationship back to its fiery best.
Experience
With any online platform, it's important to trust in the expertise of the supposed professionals on the other end of the chat. With ReGain, you can rest assured that all your sessions are with certified, experienced therapists. All have master's degrees or PhDs in psychology, and all have undergone the necessary training hours to receive a license in their state. This means you'll be receiving recommendations from true professionals who know their stuff. When paying for a counseling service, you should never settle for any less.
Availability
Convenience is one of an online counseling service's biggest draws. With ReGain, you know you'll enjoy constant access to professional therapists. Even if your counselor can't respond the very moment you reach out to them, you can count on them being available in a timely fashion. Instead of having to wait for a scheduled session as you would with a traditional therapist, you can stay in contact throughout the week. This will allow you to make progress at a faster pace.
Privacy and security
Confidentiality is an essential part of any relationship with a therapist, and it's scrupulously upheld on ReGain's counseling platform. When you first sign up for the service, you can submit a nickname to keep your real name under the radar. You will have to give your actual name and contact information in case an emergency should arise, but this data will be completely protected within ReGain's secure system. All these measures ensure you can be open and honest about your sex-related concerns, fostering the type of dialogue that brings meaningful results.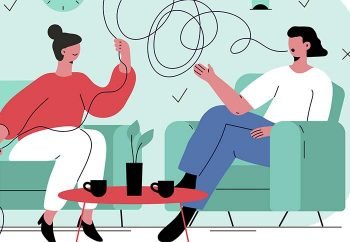 Need someone to talk to ?
We help you find your psychologist
Prices for ReGain's online sex therapy
Online counseling from Regain costs between $60 and $90 per week. This weekly payment will give you full access to your private chat room. Such reasonable pricing is a big part of what makes ReGain the best choice for online sex therapy.
Sex counseling, sexologists, and sex doctors
As you seek assistance with your sex-related issues, you might be wondering exactly who to turn to for help. Sex counseling, sexologists, and sex doctors are all terms frequently associated with therapy for intimacy troubles. Understanding the subtle differences between these terms can help you get the help you need.
Sex Counseling
Sex counseling refers to therapy sessions with a licensed counselor who specializes in sex-related issues. The format is similar to other types of counseling and therapy. This is the type of online service you can find on ReGain.
Sexologists
Sexologists are experts on sex who have studied the topic in an academic setting. They are the folks who conduct studies, test hypotheses, and publish papers on sex. Clinical sexologists work directly with patients to discuss sex-related issues. Often, sexologists address issues like erectile dysfunction that straddle the border between physical and mental health.
Sex Doctors
Sex doctors are physicians like gynecologists who work directly with parts of the body relating to sexual functions. These are the folks who wear stethoscopes and conduct detailed physical exams. While their advice can be useful in a remote or online setting, they're more likely to work with patients in person.
Conclusion: Get your love life back on track
Dealing with sex trouble is frustrating at best and humiliating at worst. In some cases, intimacy issues can derail an entire relationship. The good news is that the power to improve is in your hands. Online sex counseling is a convenient, effective way to put the zest back in your love life. To achieve the results you're craving, get started on ReGain today.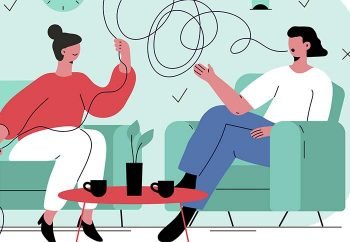 Need someone to talk to ?
We help you find your psychologist