You may have heard about cognitive-behavioral therapy (CBT), which has appeared as a leading therapeutic method in recent years. In fact, CBT has been around for decades. It is a tested, proven method that helps many mental health conditions. You can learn about CBT from online courses, but the best way to get its full benefits is from individual counseling with an online CBT specialist.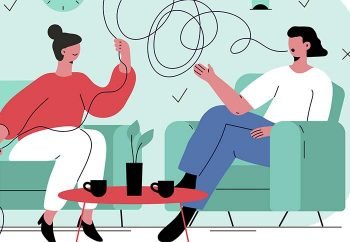 Need someone to talk to ?
We help you find your psychologist
What is cognitive-behavioral therapy (CBT)?
This is highly structured, brief therapy that focuses on immediate problem solving and behavioral change. The goal of CBT is to explore the way your beliefs and thoughts affect the way you act. If your actions lead to unhappiness, you can change them by changing the way you think about them.
A therapist who uses a CBT approach will teach you how your thoughts and feelings can trap you in a negative cycle of situations where you consistently fail. That cycle of failure prevents you from taking positive, constructive actions that might improve your life.
How does CBT work?
Every therapist uses a slightly different approach based on their experience and specialization. In a typical CBT session, however, you will follow a basic pattern.
The therapist begins by asking what problem you want to work on first. You will then explore the thoughts and feelings that surround you when you encounter that problem. You may be asked to keep a journal to record your thoughts and emotions.
As you talk, your therapist will sort out which of your thoughts are preventing you from acting as you should. The next step is to replace those unhelpful thoughts with helpful, supportive thoughts.
What happens in CBT therapy?
It typically follows the following stages.
Naming situations that cause you distress: These may be a medical condition, anger, cravings for a substance or a mood disorder. Your therapist may help you isolate the primary situations you want to focus on in therapy.
Becoming aware of unhelpful thoughts: Once you identify the problems you want to work on, you explore the thoughts and beliefs that you have about these situations. Your therapist will discover how you talk to yourself and what thoughts you may have when you face the problem.
Spotting unhelpful and negative thoughts: Your therapist will help you see how you react emotionally and physically to the situation when it happens.
Developing new thinking: Your therapist will help you see which of your thoughts are unrealistic or inaccurate. You will then work on replacing those unhelpful, inaccurate thoughts with rational, positive thoughts that induce more positive behaviors.

How does CBT differ from other types of therapy?
The crucial difference is the way it focuses on specific problems and brings about quick, measurable results. Most people change their behavior after just a few sessions, and they use the remaining sessions to reinforce their new behavior.
While CBT is excellent for many conditions, it is not for everyone. It may not be suitable for people with complicated, longstanding mental health disorders or serious psychiatric illnesses. People with those conditions typically require more supportive, long-term therapy.
It is also not suitable for people who want a psychodynamic approach.
Psychodynamic therapy, which is the modern form of traditional psychoanalysis, works by exploring deep, underlying causes of your mental health conditions. Many people find this exploration helpful in allowing them to move forward from a painful past and into a better future.
CBT may not work if you prefer a mindful or holistic approach to therapy. While it deals with physical symptoms, it doesn't look at the influence of physical and emotional health on your mental wellbeing.
How long does CBT take?
Most CBT is short term because it addresses one major problem at a time. If it works for you, however, you can continue getting CBT to improve other areas of your life.
Many people find that regular CBT sessions can help them:
Be more productive at work.
Develop self-discipline.
Improve their personal relationships.
Manage their finances.
Make career changes.
Become more creative.
Cope with stress.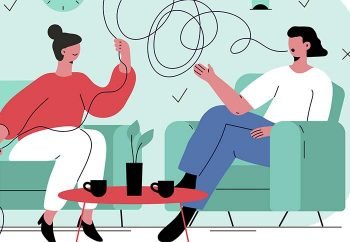 Need someone to talk to ?
We help you find your psychologist
What mental health problems can CBT address?
Depression: Cognitive-behavioral therapy is one of the best treatments for depression. It works quickly to move people from depressed, suicidal thoughts into more positive, optimistic frames of mind.
Anxiety: Anxiety is a common mental health condition. Using CBT can help people respond calmly to anxiety-producing situations.
Insomnia: CBT can help set up routine behaviors that induce healthy sleep patterns.
Eating disorders: People with anorexia, bulimia and other eating disorders often respond well to CBT.
Habit change: Lifestyle behaviors like smoking, overeating and substance use respond well to CBT. This therapy can also help you replace destructive behaviors with healthier ones. Many people have successfully used CBT to lose weight and make other lifestyle changes.
Substance abuse: CBT is a proven treatment for substance abuse. Many insurance companies that cover substance abuse treatment require the use of CBT because it is the most evidence-based treatment.
Post-traumatic stress disorder (PTSD): This is a complicated condition that results in many negative behaviors. With CBT, people with PTSD can learn to control the thinking that leads to destructive behaviors.
Pain: Studies have found that CBT can help people cope with physical conditions, including chronic headaches and low back pain.
Relapse prevention: Many substance abuse counselors use CBT to prevent relapses of drug and alcohol use. It is also useful for preventing relapses of mental health symptoms.
Is CBT right for you?
If you want therapy that has quick results and focuses on immediate changes, you may find CBT extremely helpful. It is best if you are:
Comfortable with a highly focused, structured format.
Willing to take direction from your therapist.
Interested in quick results.
Committed to making real, observable changes.
Want a practical, results-focused treatment.
Which is the best option: Online CBT courses or individual CBT therapy?
What is the best way to get the benefits of CBT? You can take a course that teaches you the principles of CBT, or you can get individual counseling from an online therapist.
Advantages of online CBT courses
Most CBT courses are designed for mental health professionals who already have professional degrees and licenses. If you are a practicing professional, there are many online courses where you can get certified as a CBT specialist.
If you are not a practicing counselor, there are a handful of CBT online courses that can train you in the basics of using CBT to address your own problems. These are brief, focused training courses. Is this the best approach?
Consider the following advantages and disadvantages.
Learn more about what CBT is
If you want to learn more about the therapeutic details of CBT, these courses will teach you that. These courses typically focus on helping you cope with anxiety or depression. They are brief and limited in scope.
Work on your own
If you're not ready to work with a therapist but want the benefits of CBT, these courses can give you a basic grounding in its principles.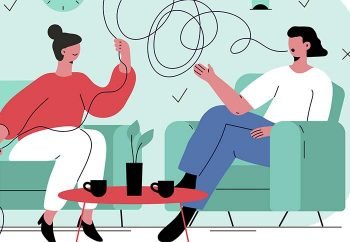 Need someone to talk to ?
We help you find your psychologist
Advantages of one-on-one CBT
The best way to get the benefits of CBT is to get one-on-one counseling based on CBT principles. Following are the advantages of getting individual CBT counseling.
Work with a trained psychotherapist
You can read books and take courses, but nothing replaces the experience of working with a trained, experienced psychotherapist. A CBT therapist will work with you to create a treatment plan, hold you accountable and monitor your progress.
Get better results
Rather than trying to learn a therapeutic technique and apply it to yourself, you work on your problems right away. If you try to use CBT techniques on yourself, you are certain to miss important steps. A trained therapist can help you achieve real, measurable results.
Ease and convenience
Online therapy makes it easy to get a counselor who will work on your schedule. You can find therapists 24-7 who specialize in CBT counseling. Schedule appointments at your convenience, and get help from the comfort of your home.
Accountability
Working with a therapist will keep you accountable. You can exchange ideas, ask questions, clarify certain issues and watch your progress. A therapist will help you stay on track.
Therapeutic relationship
The therapeutic relationship makes any therapy work. Without that, you are working blindly on your own. A professional counselor is your personal guide to better mental health. There is no replacement for a trusted, face-to-face counselor.
Where to find an online CBT therapist
If you want to change your behavior and your life, individual CBT with a qualified professional can help.
Where can you find one? Here are some sources you might consider:
Findyourtherapy: Consult this site to get the latest information on therapy and reviews of online counseling sites.
BetterHelp: You can request a CBT specialist on this network.
ReGain: This platform specializes in couples counseling, and there are CBT therapists available.
TeenCounseling: Get help for teen mental health issues from a CBT specialist.
Pride Counseling: Find a qualified CBT counselor who specializes in LGBTQ issues.
Faithful Counseling: You can select a CBT counselor who is also a practicing Christian.
Change your behavior with CBT
CBT is a tested, proven form of therapy that produces quick results for your most pressing problems. It can help you address a wide range of mental health concerns. To get the full benefits of CBT, it's best to work with an individual online counselor. Find a therapist at one of our best online counseling sites.
References
Mayo Clinic: Cognitive Behavioral Therapy.
American Psychological Association: What is CBT?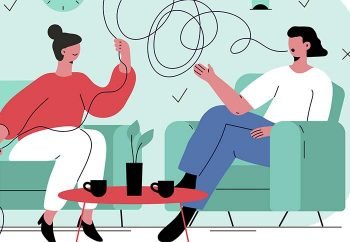 Need someone to talk to ?
We help you find your psychologist