With the advent of technology, various mental health professionals offer online therapy, popularly known as e-counseling, for individuals who seek counseling from the comfort of their homes. In addition, licensed therapists and psychiatrists provide mental health services via virtual reality technology such as FaceTime and other options.
Using FaceTime for online therapy is effective and reliable in addressing mental health issues. Moreover, it provides an ease of anonymity to the client.
So if an individual does not want to go to practical office sessions for therapy, FaceTime counseling is a fantastic alternative for them. It also conveys the same level of professionalism as in-person counseling sessions.
Due to these reasons, online therapy and counseling are gaining popularity in the field of psychology. First, however, you should know about the various mental health services and their pros and cons before opting for online therapy.
You can read below to find some of the best FaceTime counseling and therapy session options.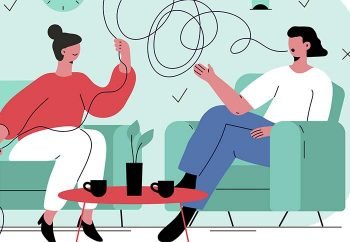 Need someone to talk to ?
We help you find your psychologist
Pros of FaceTime therapy and counseling
Recently, FaceTime therapy has gained popularity as a convenient, affordable, and accessible option for counseling.
Due to the flexibility provided by e-therapy, many individuals get the support they require for their specific needs. For example, FaceTime therapy includes ease of access to people living in remote areas. Here are various other benefits of FaceTime therapy.
People with physical limitations get access to therapy
FaceTime counseling provides effective means of therapy to people with physical limitations. Many housebound or disabled individuals cannot go for in-office therapy sessions due to mobility issues.
Under such circumstances, FaceTime therapy provides convenience and ease of access to accommodate all such clients.
Convenient mode of therapy for remote areas
Due to FaceTime counseling, people living in remote or rural areas get quick access to mental health services.
They do not have to schedule traditional in-office therapy sessions with a psychologist. In addition, they do not have to travel for hours to access in-office therapy.
With the introduction of FaceTime therapy, all they have to do is schedule an online session to get quick access to the best mental health services.
An equally effective means of therapy
If you wish to access mental health services from your home, FaceTime therapy is an equally effective and reliable means of counseling. All you need is a steady internet connection to get quick access to the treatment.
According to research, online counseling and therapy are as effective as traditional in-office psychotherapy sessions. It means that online mental health services provide the same results as traditional therapy sessions.
Moreover, CBT (cognitive behavioral therapy) via virtual communication is also equally effective, as in-office therapy. Thus, FaceTime counseling is an effective and accessible mode of seeking professional help for mental health.
Convenient and approachable
Many individuals seeking help for mental health problems prefer to communicate via virtual modes of communication rather than talking in person. In such cases, FaceTime therapy and counseling provide convenience to such clients.
Moreover, mental health services have become more accessible as individuals can easily approach treatment, at the expense of their internet connection. Online therapy also helps combat the stigma around mental health problems.
What are the best Facetime counseling and therapy sessions?
Now that we have discussed the pros of online counseling, let us talk about the best FaceTime counseling and therapy sessions. Here are extensive reviews of the best online therapy sessions that are available for you.
We hope that this comprehensive guide helps you pursue suitable online therapy sessions according to your requirements.
BetterHelp
BetterHelp is the world's most popular online platform that provides access to therapists and psychiatrists. It links users to professional mental health care providers via virtual means of communication.
BetterHelp has made online therapy more accessible to people by connecting them to a suitable therapist of their choice. This platform was founded in 2015, and since then, it has been one of the most successful online platforms for psychotherapy.
To access the services, you have to go to the website, where you will be greeted with the following words, "You deserve to be happy." Below that, it has the option for you to seek what kind of therapy you require.
Then you have to answer a series of questions regarding your gender, sexual orientation, age, and religious preferences. This questionnaire is followed by another one that involves questions regarding your mental health.
When you answer the questions, it asks you to create an account. Next, you have to verify the account and log in to answer your preferences about a therapist. Then an algorithm finds a therapist for your needs.
BetterHelp has various means of communication such as text messages, video calls, phone calls, and conference calls on FaceTime. This way, BetterHelp provides ease of access to online therapy. Moreover, it offers financial aid. Hence, it is a highly affordable option for treatment.
It also has trained professionals for the following issues.
Anxiety
Depression
Eating disorders
Drug Addiction and abuse
Family problems
Self esteem issues
Behavioural issues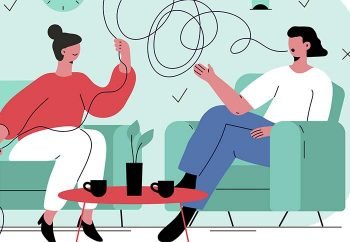 Need someone to talk to ?
We help you find your psychologist
ReGain
ReGain is another popular platform for online therapy. This platform was established by the parent company BetterHelp. ReGain exclusively focuses on relationship problems.
It offers convenient and affordable e-therapy to couples seeking help. This online platform has a team of certified and trained psychologists specializing in marriage therapy and family problems.
The board-certified psychologists, marriage counselors, and social workers ensure that people communicate to eradicate barriers. Similar to other online platforms for therapy, ReGain also uses virtual therapy sessions with various communication methods.
These online sessions provide ease of scheduling. They are also relatively affordable. Since ReGain has a range of therapists, it's easy for you to find the one that suits your needs.
All you have to do is answer a questionnaire. Then an algorithm will match you with a therapist that meets your needs.
If you're not satisfied with the match, then you can request a new match. Once you find a therapist of choice, then you will get a joint account with your partner. Next, you can communicate to your therapist via video sessions, FaceTime conference calls, text messages.
The best feature of ReGain is that it allows the clients to stay anonymous. Moreover, you will have the ease of dropping a text message to the therapist at any time.
Overall, ReGain provides individuals with affordable and convenient access to online counseling and therapy.
Teencounseling
Teencounseling is an online therapy platform that offers professional help for teens. It is a highly discreet service that has board-certified professionals who help troubled teens.
Teencounseling has about nine thousand therapists specializing in mental health issues such as stress, depression, anxiety, anger management issues, behavioral problems, eating disorders, etc.
Besides this, the counselors are specialized in the teenage related issues such as the following.
Self-image issues
Body-image issues
Sleep difficulties
Social interaction issues
Bereavement
Unhealthy coping mechanisms
Behavioural issues
Due to the availability of various counselors, you can find a therapist suitable for your needs. The website will match you with the therapist once you fill out a form. In addition, this website offers therapy via FaceTime conference calls, text messages, video calls, etc.
The conversation between the client and the therapist stays confidential. Moreover, you can choose the mode of communication according to your ease. For example, the website allows the parents to communicate with the therapist in the case of younger patients.
The parents are provided with a separate chat room to address their concerns. But, teencounseling keeps the communication discreet. Therefore, it is a highly approachable website for online therapy.
Cons of Facetime counseling and therapy
Online therapy and counseling is an effective way to seek professional help for most individuals. However, it has some potential disadvantages and risks. Here are some of the cons of e-therapy.
No insurance coverage
Most insurance companies do not cover E-therapy. It may vary from state to state, but insurance policies do not cover online counseling and therapy in most cases.
Also, many online platforms for therapy do not accept insurance payments. So you may have to pay for treatment by yourself.
States do not permit external providers
Some of the states do not permit outside providers. Unfortunately, it means that you will not have access to an out-of-state therapy service. In such situations, the therapists would need a license from your home state.
However, some states allow a licensed mental health care professional to provide services in other states. However, the service provided has to be for a specific time duration—for example, ten to thirty days per year.
Confidentiality
Confidentiality is a significant concern when it comes to e-therapy. You have to keep your personal information safe. But, online therapy requires your data.
Since all forms of therapy require personal information, it can be confusing to know whether you should provide it to online platforms.
In addition, online data transmission comes with the risk of privacy leaks. Due to this, many individuals refuse to take online therapy sessions.
Delayed response to crisis
A delayed response is one of the biggest concerns of clients when it comes to online therapy. Since the therapists are away from the clients, it is challenging for them to handle the cases in crises.
Sometimes, technical difficulties such as slow internet can cause a delayed response. In such situations, e-therapy seems flawed because if the client has suicidal thoughts, it's difficult for the therapist to provide immediate assistance.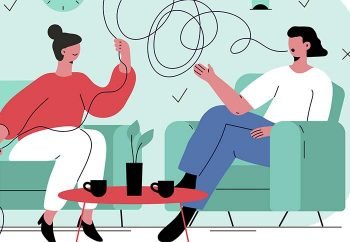 Need someone to talk to ?
We help you find your psychologist
Inappropriate for psychiatric problems
Online therapy is highly effective for various mental health problems. But when we talk about psychiatric issues, then online therapy is not a practical solution. It is because patients require immediate treatment under such circumstances.
For example, suppose a client has a severe or complex condition such as schizophrenia that comes with other associated disorders. In that case, online therapy will be very limited in treating this difficult situation.
Conclusion
Considering the pros and cons of online therapy, we conclude that while e-therapy has its limitations, it can still help many individuals with various mental health issues.
Since online counseling is a highly convenient way to access mental health services, we suggest you sign up to any platform mentioned above for help.
It may take some time to find a suitable therapist, but it is worth trying because you deserve to have peace of heart and mind.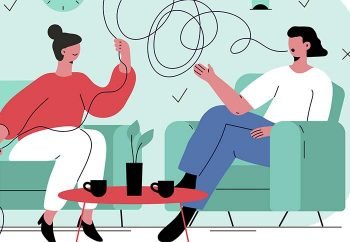 Need someone to talk to ?
We help you find your psychologist