Bisexuality describes a sexual orientation in which you are attracted to people of your gender and other genders. Although the term "bi" usually refers to two things, people who are bisexual may not be attracted to only two genders. They may be attracted to anybody, regardless of their gender. The term "pansexual" is often used for people who are romantically and sexually drawn to individuals of any gender.
Some people say that labels don't matter, but categorization is a natural function of the human brain. Understanding your sexuality helps you find like-minded people. Sexuality occurs on a spectrum, though. Because it doesn't fall into neat, tidy boxes, it can lead to confusion for individuals and therapists. Your sexual orientation is valid, and it shouldn't be constrained by the limited perspectives of society. You need to find a therapist who gets it.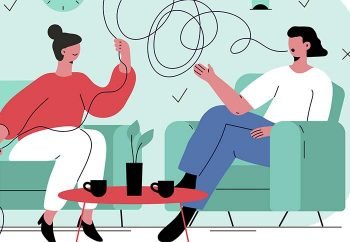 Need someone to talk to ?
We help you find your psychologist
What's the best service for bisexual therapy?
Pride Counseling offers online therapy for the LGBTQ+ community. The therapists that offer their services through Pride Counseling have experience working with bisexual and pansexual clients. Many of them are also part of the LGBTQ+ community.
They can help you navigate the issues that bisexual people deal with, such as:
• Stereotypes and discrimination
• Feelings of guilt and shame surrounding sexual identity
• Pressure and rejection from family, friends and society
• Coming out
• Violence
However, many of the concerns that bisexual people have are internal. They may not involve friends, family or society. An online therapist from Pride Counseling can help bisexual individuals:
• Develop self-acceptance
• Reconcile internal conflicts that stem from moral, spiritual and cultural beliefs that cause emotional discord
• Foster healthy interpersonal relationships
• Get out of toxic partnerships
• Manage mental health disorders
Bisexual people may be less likely to come out than people who are attracted to one gender. There is a lot of misinformation surrounding bisexuality. People who identify as bisexual may feel misunderstood by those in the straight and LGBTQ+ community.
One type of prejudice that bisexual people often deal with is identity invalidation. People who don't understand what it's like to be attracted to various genders may not believe that it's possible. Ill-informed and closed-minded people often assume that bisexual individuals are promiscuous, unable to make decisions or irrational.
Moreover, bisexual people may be more likely than people with other sexual preferences to develop a mental health disorder. The more anti-bisexual encounters that you have, the more likely you are to develop physical or mental health problems.
That's why it's so important to find a counselor who is familiar with the struggles that bisexual people go through. It's never ok for a therapist to judge, shame or humiliate you. However, a professional who is not familiar with LGBTQ+ matters may inadvertently be insensitive.
You don't have to worry whether your therapist is a good match for you when you use Pride Counseling. All of the Pride Counseling mental health professionals specialize in LGBTQ+ issues. Within that category, the therapists have various areas of focus and use a broad range of approaches.
Maybe your concerns have nothing to do with your sexuality. Still, you may feel more comfortable opening up to a Pride Counseling professional than another mental health counselor.
How does pride counseling work?
Pride Counseling is an internet-based service that is available via a computer or mobile device. After they sign up, members can access licensed, certified therapists from their phone or computer.
The process is simple. Visit the website, and click on Get Started. You'll be asked to complete a questionnaire that asks about some demographic information, personal details, goals for therapy and preferences for a therapist. You'll notice that Pride Counseling has questions geared toward your sexual orientation, such as asking about your pronouns. You can specify whether you're questioning or unsure. The platform uses your answers to match you with a qualified professional who specializes in the issues that you're facing.
You can register with a nickname that protects your identity. You can choose what you share with your therapist and don't have to reveal personal details. However, you should provide an accurate email address and payment information to continue using the service without interruption.
Depending on therapist availability, Pride Counseling will pair you with a therapist within a few hours or several days. Typically, you'll be paired with a counselor within 24 hours. Once you have entered your payment information and matched with a therapist, you can begin working with them.
Pride Counseling supports various types of sessions with your mental health counselor. You can schedule live sessions via video, chat or audio. You can also message your therapist at any time. The frequency of communication depends on your schedule and your therapist's availability. Messages are answered within a reasonable time frame, and live sessions are scheduled ahead of time.
All of your written communication with your therapist is saved in the platform. You can access it at any time, from anywhere in the world.
You can choose to subscribe to Pride Counseling for as long as you wish. Many clients use the platform as a tool to access consistent support for their problems. Over time, however, you may feel comfortable handling your issues on your own. You can end your subscription whenever you want. You always have the option to return to the platform if you need professional help in the future.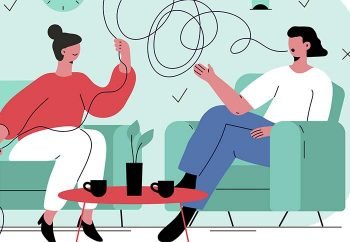 Need someone to talk to ?
We help you find your psychologist
What are the standout features of Pride counseling bisexual therapy?
Pride Counseling offers many benefits that in-person therapy and other mental health apps don't provide. The standout features of Pride Counseling bisexual therapy include:
• Privacy – The Pride Counseling platform is private and secure. Live calls, video conferences and chats are initiated through the system. Your therapist will not have access to your phone number or contact information.
• Specialized therapy – When you have assurance that all of the therapists are experienced with LGBTQ+ concerns, you can focus on the specific issues that you're dealing with.
• Licensed, vetted therapists – All of the professionals that work with Pride Counseling have to complete a rigorous application process. They must be fully licensed and certified to practice in their field.
• Accessibility – You can correspond with your therapist at any time and from any location in which you have internet access.
• Continuity – You are encouraged to stick with the same counselor for privacy and continuity reasons, but you can switch at any time if you're not satisfied. Messages remain in your account so that you can use them as resources in the future.
• Self-paced – You are in charge of the nature and frequency of your communication with the therapist. While live sessions can help you hash out issues right away, they don't always give you time to fully reflect. The 24/7 messaging option allows you to return to important concerns as they arise.
Keep in mind that the therapists on the platform cannot provide official diagnoses. They may not be able to provide recommendations for hormone replacement therapy.
Your counselor cannot prescribe medication. However, they can offer a personalized plan for managing your mental health issues. Pride Counseling professionals are trained in a wide variety of behavioral and psychological treatment methods, such as cognitive behavioral therapy, journaling, psychoanalysis, mindfulness and motivational interviewing. Research shows that evidence-based therapy is effective for treating mental health disorders and improving quality of life.
How much does pride counseling cost?
Pride Counseling costs between $60 and $90 per week. The platform offers discounts for individuals with lower incomes. The service is billed monthly.
Your flat fee gives you access to the full platform. You'll be able to schedule up to four live sessions per month or send unlimited messages to your therapist.
Remember that this is not an automated service. You'll be working with a real human who meets with other clients as well. You'll establish a workable schedule once you're matched with your therapist. Your fee covers all communication with the therapist.
Pride Counseling does not bill insurance. Clients must pay out of pocket. However, some clients may be able to submit a claim to their health insurance to have the costs reimbursed.
Final thoughts
If you're bisexual, you don't have to struggle to find a therapist who understands you. Pride Counseling takes care of finding the right mental health professional so that you can dedicate your time to improving your quality of life. The convenient, online platform gives you access to a counselor when you need it most. It's an affordable, versatile and effective way to get the mental health care that you need.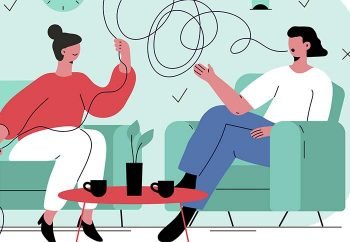 Need someone to talk to ?
We help you find your psychologist