Do you need a lesbian counselor? If you're a lesbian, you likely face many issues that a straight therapist cannot relate with. A gay therapist may not have gone through the same challenges as you have, but they may have more experience with those obstacles.
That doesn't mean that lesbian therapists specialize in treating queer sexuality issues, though. Every mental health professional undergoes rigorous training to give them a foundation for helping others. Straight therapists may have more training in LGBTQ+ sexuality matters than a gay counselor.
Still, working with a mental health professional who shares your orientation allows you to develop rapport and trust on a level that isn't possible otherwise. That shared understanding makes many clients more comfortable. They don't have to worry that the therapist is judging them or requires further explanation of a particular concept.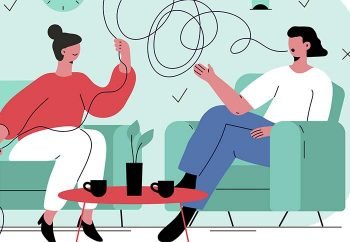 Need someone to talk to ?
We help you find your psychologist
Is Pride Counseling the best for finding a lesbian therapist?
Pride Counseling is an online therapy platform that supports the LGBTQ+ community. People of any gender identification and with any sexual preference may connect with therapists through Pride Counseling. However, they should know that the counselors are trained and experienced in LGBTQ+ issues.
Many clients who seek out Pride Counseling are members of the LGBTQ+ community. Some are seeking help for concerns surrounding sexuality issues. However, others are looking for general talk therapy and mental health treatment options.
If you're a lesbian, you may feel most comfortable with a lesbian therapist even though you want support for an unrelated emotional problem. If you're straight, you may want to work with a lesbian therapist because you feel as though they're more open-minded.
Clients can find a lesbian therapist on Pride Counseling to discuss any mental health concern. The platform hosts thousands of licensed, certified therapists that specialize in the LGBTQ+ community. These professionals are also certified in various other mental health treatment methods, including:
• Cognitive behavioral therapy
• Anger management
• EMDR
• Mindfulness therapy
• Relaxation techniques
• Meditation
Every therapist on the platform has a distinct combination of skills and benefits to offer. Pride Counseling aims to connect you with the one that best matches your preferences. Its screening procedure uses your preferences, goals and general information to find a therapist who specializes in relevant areas.
Once you match with a therapist, you can communicate with them via a mobile device or computer. All communications will take place through the Pride Counseling portal. Clients have a variety of options for maintaining contact with their counselor.
How does it work?
Begin by visit the Pride Counseling website. Navigate to the FAQ page to get more details about the program. If you're ready to begin, click on Get Started.
The site will walk you through a questionnaire. This asks you about your gender identity, sexual orientation, reasons for seeking therapy and preferences for a therapist. Providing accurate answers will help you match with the best therapist for your needs.
After you have completed the questionnaire, the system goes to work to pair you with the ideal professional. You'll receive an alert when your therapist is assigned to you.
From there, you can accept the terms and provide your payment information. Then, you'll be able to communicate with your therapist from the app or an internet browser. You can use the platform from anywhere that you have internet access.
You can correspond with your therapist in the following ways:
• Messaging through Pride Counseling's secure portal – Clients can send messages at any time; the therapist should respond within 24 hours.
• Live messaging – The client and therapist schedule an appointment to send messages back and forth in real time.
• Phone calls – Speaking live with the therapist using the platform as a portal so that neither party has access to the other's personal contact information
• Video conferencing – Screen-to-screen appointments that are conducted through the app or website
You can change therapists at any time if you're not happy with the one that was assigned to you. Pride Counseling aims to match you well the first time, however. Remaining with the same therapist over time establishes a strong professional relationship.
Clients may use the service for as long as they would like. Pride Counseling is a subscription-based service with a flat monthly fee. You can work with your therapist as much or as little as you need to. You'll get a chance to communicate your scheduling needs once you begin working together.
One of the benefits of finding an online lesbian therapist is that you don't have to travel to an office for face-to-face appointments. Pride Counseling offers flexible counseling sessions that work with any schedule.
What makes the Pride Counseling psychotherapists stand out?
Choosing a therapist is an important and personal process. When you look for an in-person therapist locally, you typically seek out a professional based on location and pricing. You may be able to select a counselor that offers specific treatment methods. But you typically can't put in a preference for a therapist with a specific sexual orientation.
At Pride Counseling, you can specify whether you'd like to work with a therapist in the LGBTQ+ community. All of the therapists that offer services through Pride Counseling are gay-friendly and specialize in LGBTQ+ matters in some way.
Pride Counseling lesbian therapists have helped clients with:
• Coming out
• Exploring their sexuality
• Dealing with bullying and homophobia
• Dating and relationships
• Social skills
• Family conflicts
Clients in the LGBTQ+ community may have a unique perspective when it comes to these issues. The mental health professionals at Pride Counseling are equipped to address these concerns. An affirming therapist will also recognize that your identity is valid, which is crucial for developing a strong relationship.
They also go through a rigorous application process to be able to work through Pride Counseling. All of the therapists must have a master's or doctorate degree in their area of practice. Pride Counseling ensures that its therapists have passed the licensing exam in their state and have at least 3 years and 1,000 hours of applied experience.
Many counselors have additional certifications and specialties. Some may be trained in specific psychotherapy techniques.
Your counselor will create a personalized treatment plan. When you begin working with your therapist, you could inquire about the methods that they use and how those techniques apply to your issues. Being clear about your mental health struggles will help to ensure that you are working with the best therapist for you.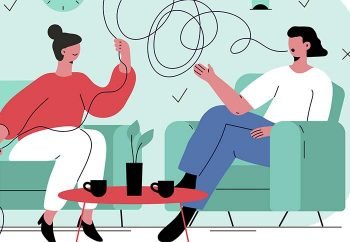 Need someone to talk to ?
We help you find your psychologist
Pricing
Pride Counseling is a subscription service that charges a fixed weekly fee. The price ranges from $60 to $90 per week. The platform endeavors to be affordable and offers income-based discounts.
The weekly price is equivalent to or less than a one-time copay or office visit fee. Plus, it gives you access to your therapist via messaging throughout the week. You get much more than a single therapy session for the weekly price.
You'll enter your payment information when you register with the site. Clients are billed monthly for services.
Final thoughts
Many members of the LGBTQ+ community don't have an affirming space in which they can be themselves. Finding a lesbian counselor can help you be more authentic in therapy and life. Gay individuals have a higher risk of developing mental health disorders. Find the best therapist to support you at Pride Counseling.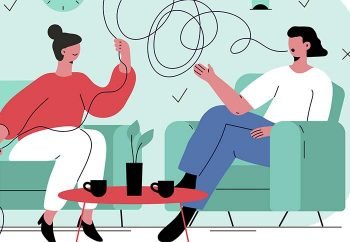 Need someone to talk to ?
We help you find your psychologist