When your marriage is in crisis, a couples therapist can bring a much-needed, neutral view to the situation. Marriage therapy can help you learn better communication strategies and reignite your passion for each other. Online counseling has helped many couples learn to manage conflicts and build strong connections.
Where can you find legitimate, qualified couples counselors online? Learn about the top online resources and why we recommend ReGain for people serious about saving their relationship.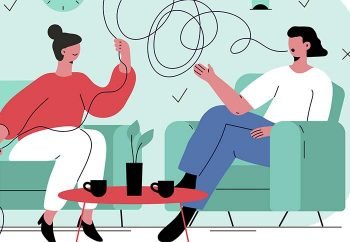 Need someone to talk to ?
We help you find your psychologist
How Can Online Marriage and Couples Therapy Help?
Among all types of therapy, couples therapy has one of the highest rates of success. Making the commitment to focus on your relationship is the first step. If you've been unhappy for a long time, it's clear that your own efforts aren't working. The sooner you can find someone to help, the sooner you can reconnect and get your relationship on a stronger footing.
With the availability of online couples counseling, there is no reason to wait. You can start healing your relationship today. Here are the top online resources for marriage therapy and couples counseling.
Top Picks for Virtual Marriage and Couples Counseling
There are many places to get online couples counseling. We recommend ReGain because it's strictly focused on marriage and couples counseling, offers highly qualified therapists, and is an affordable option.
Findyourtherapy
What is it? Findyourtherapy is the web's largest resource for news and information about psychotherapy, psychotropic medications and research studies. On this site, you will find articles about the effects of diet on depression, news about the latest treatments for psychiatric disorders, and articles describing every type of psychotherapy. In-depth articles are based on research published in scientific journals, government investigations and other high-quality sources.
It's also an excellent referral resource. If you're looking for a specific type of therapist, Findyourtherapy can help. Do you want an online Spanish-speaking therapist, or a therapist who specializes in rapid eye movement desensitization (EMDR), or a holistic therapist for women? Findyourtherapy can find them for you.
How it works: Findyourtherapy is available 24-7 and its information is updated daily. The website is free to use. You can get a free subscription to the Findyourtherapy email newsletter.
Pricing: Findyourtherapy and the Findyourtherapy subscription are free to use.
Good to know: Findyourtherapy is a top information and referral source. If you want a referral to the best psychotherapist in your area, start here.
ReGain
What is it? ReGain is an online site that specializes in professional marriage and couples counseling. ReGain offers convenient, discreet counseling for people struggling with common relationship issues. Each ReGain account is available to two users, so each member of the couple can ask questions and talk to the therapist.
How it works: ReGain is available for individuals or couples. It begins with a quick online assessment. Only one person needs to fill out the questionnaire. Once you submit your answers, the site matches you to a licensed, accredited therapist who meets your requirements. Therapists are available 24-7, and you can choose how you want to communicate. ReGain offers messaging, phone calls or video calls.
When you subscribe to ReGain, you and your therapist get a dedicated virtual room. This is a private, secure place for communicating with your therapist and your partner. This room is open 24-7, and you can enter it any time from any internet-connected device. You can write about your feelings or your relationship, ask questions and speak openly. Your therapist reads your messages and responds with insights and guidance.
Pricing: The cost of ReGain is $80 to $100 a week, depending on your location and the level of services you use. The payment is billed monthly to your credit card or PayPal. You can cancel your subscription any time.
Good to know: If your spouse or partner doesn't join at the same time you do, you can always invite them to join the therapy sessions later. All ReGain therapists are experienced, highly trained couples counselors.
Why Is ReGain our top choice?
Unlike other sites that offer many types of therapy, ReGain focuses on couples and marriage counseling. Its therapists are uniquely qualified and trained in this area.
It is much more affordable than traditional therapy. Another site on our list, Couplestherapy Inc., also focuses on couples therapy, but it is not as affordable or easy to use as ReGain.
The site is well-organized and easy to use.
ReGain gets outstanding user reviews.
Couplestherapy Inc.
What is it? Couplestherapy, Inc. (CTI) offers therapy for couples based on the Gottman Institute principles of relationship counseling. Only a few hundred therapists in the world are certified as Gottman therapists, and you can find some here.
CTI offers the following programs:
Intensive couples therapy retreat.
Sexuality retreat.
Premarital counseling.
Couples therapy in person or online.
Affair recovery therapy.
Private relationship coaching.
Discernment counseling for those who aren't sure if divorce or therapy is the next step.
Hopeful spouse coaching, also known as "couples counseling for one."
Self-help courses and eBooks.
Free articles.
How it works: The way you use the site depends on the service you want to use. The weekend retreat is an intensive two-day counseling session that allows you to make the fastest possible progress in the shortest possible time.
CTI offers courses and eBooks you can use as self-help. These cover several topics, including healing from infidelity, enhancing your spiritual connection, improving communication and more.
Pricing: Pricing depends on the service you choose.
Retreats: The intensive couples and sexuality retreats may be held online or at one of several locations across the U.S., Puerto Rico and Canada. The cost of the retreat is $2500 to 3500. If you choose to travel to a retreat, you will also have to consider the cost of transportation, food and lodging.
Online couples therapy: This costs between $250 and $300 an hour depending on the therapist you choose. Coaching prices range from $115 to $159 an hour for Gottman-certified coaches.
Self-guided help: Each self-guided course comes with an eBook and a self-paced course you can do online. Package prices average around $20 for the course and eBook.
Blog: The blog offers informative articles focused on helping you improve your relationship. All articles are free.
Good to know: Although prices for the retreats and therapy are high, you can find some excellent free or low-cost resources here.
Talkspace
What is it? Talkspace bills itself as "counseling for how we live today." In other words, we're busy, we're online, and we need help right now. In keeping with that theme, it promises immediate connection to a counselor you can start working with today. Talkspace has a dedicated area for people who want relationship counseling.
How it works: To get started with Talkspace,  you begin with a 60-second assessment. The site matches you to three licensed counselors in your state, and you choose the one you want to work with.
Set up a Talkspace account, enter your payment information, and start talking. You can choose to chat in the Talkspace room any time. You and your therapist talk through live video sessions hosted on the Talkspace platform.
You can begin talking with your counselor right away. Talkspace offers several pricing plans, so you can find one that fits your budget.
Pricing: This is a subscription-based service. Plans start at $65 a week, which includes weekly live sessions and ongoing messaging support.
Good to know: Talkspace employs licensed therapists who are available 24-7.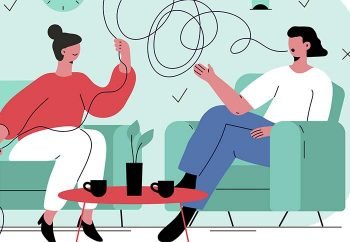 Need someone to talk to ?
We help you find your psychologist
How Does Online Therapy with ReGain Compare to Traditional Therapy?
The goal of all therapy is to bring hidden conflict to the surface, talk through them and develop ways to move forward. In couples counseling, both partners have longstanding grievances and hurts they want to bring up. Therapy provides a safe, constructive way to do this.
Good Therapists Can Work Anywhere
If a therapist is experienced and knowledgeable, that healing can take place anywhere. Online therapists have the same training, licensing and experience as traditional therapists. They are knowledgeable, compassionate and caring.
Many people find it easier to be open when they're in an online environment like ReGain. Self-conscious or shy people can choose a text or phone conversation that doesn't require them to be seen. They can use assumed names and feel reassured that everything they're talking about is private.
You're in Control
Unlike traditional therapy, online therapy gives you complete control of your appointment times, location and ways of communicating.
Do you want a therapist who uses a particular approach? Do you want you want someone who's a specialist in cognitive-behavioral therapy, holistic therapy or Christian counseling? You can request a counselor with any specialty you choose, and you don't have to drive to another town or another state to see them. Online therapy brings you a wealth of choices.
Online Therapy: Pros and Cons
Pros:
It's available 24-7.
You don't have to drive anywhere.
Talk to a therapist from the comfort of your own home.
If one partner is reluctant to try therapy, they may be more willing to agree if it's online.
You can be completely anonymous.
Many people are more open and honest online than they are in person.
It's very affordable.
Cons:
A therapist may not see your facial expressions or body language.
Your level of commitment may not be as high as it would be in an in-person setting.
Traditional Therapy: Pros and Cons
Pros:
Your interactions with each other can be very informative to a therapist.
It can be helpful to be in a neutral setting instead of the battlefield at home.
Making a commitment to go to your sessions is a sign of your investment in the marriage.
Cons:
You must schedule appointments and drive to them.
Missing an appointment can be a major setback to your progress.
The inconvenience makes it more likely you will miss appointments.
It is expensive compared to online therapy.
Renew Your Relationship with ReGain
Online couples counseling is a gift to people who are struggling to find the happiness they once knew in their relationship. If your marriage is troubled by major events like an affair or longstanding, unresolved conflicts, finding a counselor is the first step towards healing. ReGain's online resources can help you rebuild your marriage or relationship.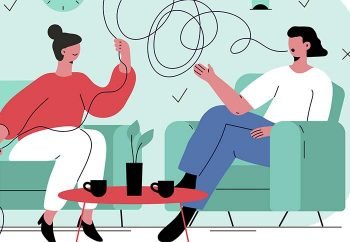 Need someone to talk to ?
We help you find your psychologist