The UAE government routinely puts new programs into action to address mental health issues and eliminate stigma. By giving people access to mental health treatments and assistance as needed, it has launched various projects.
A mental health expert can provide the much-needed support in challenging times for anyone coping with emotional problems, life difficulties, or mental health challenges. It can be a big adjustment going to therapy. It can also serve as a wonderful and invaluable support system, though.
Online counseling has become the more affordable choice for mental health due to the high expense of mental healthcare in the UAE. A therapist may give you the mental and emotional tools you need to live a happier life, even when talking to a friend is free.
Online counseling is just as effective as traditional counseling. Online treatment allows specialists who cannot help where they are to be of critical service to folks in faraway areas. To be more precise, the client and mental health expert can still have a good relationship even if there is no potential for face-to-face contact. The session might be scheduled more frequently because the customers do not have a long commute.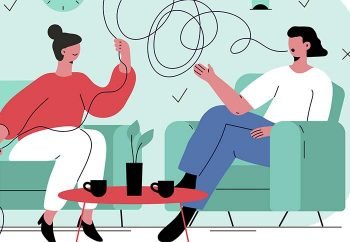 Need someone to talk to ?
We help you find your psychologist
Cost for Therapy in Dubai
It is now easier to get people to report their psychiatric conditions online as opposed to in person because to the digital era. Due to the social stigma associated with seeking treatment for psychological problems, the first step is the most difficult.
Due to the need for frequent sessions and the fact that insurance does not cover it, in-person therapy is costly. Sessions with therapists or psychologists in Dubai might cost anything from 350 AED and 1200 AED.
BetterHelp, a platform for online counseling, is a fairly cost solution for taking care of your mental health. Professionals in mental health are available to you anytime and wherever you like.
A therapist and you are matched by BetterHelp based on your needs and interests. BetterHelp is priced between $60 to $90, which equals to approximately 220 AED to 330 AED. The plan includes unlimited messages with the therapists and communication through live chat, video, or audio calls.
How Does Online Counseling Help?
The World Health Organization reports that in only three years, the number of people seeking treatment for mental health disorders in the UAE increased at least sixfold.
The number of admissions for both inpatient and outpatient mental health treatments increased between 2017 and 2020.
Experts claim that greater understanding of mental health difficulties, a drop in stigma, modifications to drug laws, and pressure from jobs, families, and social media have all contributed to the rising demand for treatment.
Online counselling services provide much-needed solace and solutions to our perplexing world. Online therapy helps you to get the qualified help you need even when you are self-isolating.
The same as in-person treatment, online therapy is conducted with the therapist.
You can now communicate with your therapist and psychiatrist in the privacy and comfort of your home thanks to virtual platforms. At this challenging and unexpected time, when many individuals are experiencing feelings of depression and isolation, it is imperative to reach out and receive competent treatment.
Online counseling is straightforward to access. Despite geographical and physical constraints, people can get the help they need.
Because they appreciate the medium and think they can interact with their therapist more quickly and effectively, children and teens respond well to virtual therapy.
How can you benefit from online therapy in  Dubai?
It's crucial to consider what each company has to offer if you want to locate the greatest online treatment in Dubai. One should take into account the following factors while selecting an online therapist:
Convenience: You can receive treatment through online counseling from anywhere as long as you have a fast Internet connection. You do not need to spend time or money traveling to and from appointments, navigating public transit, or dealing with other issues. If you see an online therapist from the comfort and security of your home, it may frequently be advantageous to open up, be more vulnerable, and strengthen your capacity to handle difficult emotions that may surface during a therapy session.
Professional Therapists:

A person should make sure the online platform has licensed therapists who are qualified to practice. They must also possess a license from the state or nation where they now reside.

Pricing:

Various price plans could be provided. It should be easy to cancel memberships at any time if a person decides they do not want to keep them.

Security:

One should make sure the provider of therapy services protects personal information. A corporation should make its privacy policy readily available on its website.

Teletherapy is a form of communication that tries to give patients access to care whenever they need it. When using an online therapy service, a user should have a selection of communication channels, such as live chat, video chat, or phone calls.
Time: It shouldn't take a company too long to pair up a client with a therapist. Additionally, it should be easy for patients to change therapists at any time.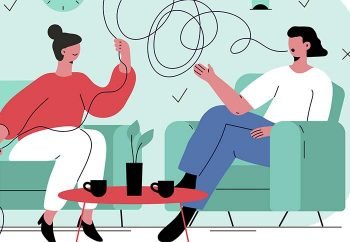 Need someone to talk to ?
We help you find your psychologist
Why BetterHelp?
The largest network of online therapists is betterHelp.com. You can communicate with a range of licensed therapists via live chat, video, phone conversations, and weekly online messages.
If you decide to register with BetterHelp, you can do so using the website or the app.
You will be required to fill out a questionnaire about your demographics, relationship status, preferred religion, kind of therapy, medical history, and areas in your life you'd like to improve as part of the signup process.
Once you've answered all the questions, you can establish your account by providing a username and password. Based on your comments, BetterHelp will pair you with a licensed therapist.
Once a therapist and patient have been matched, you can communicate with them in any method you like, including text, live chat, phone, or video. Based on your comments, BetterHelp will decide which licensed therapist to assign you.
BetterHelp could be a great place to start your mental health journey whether you need assistance with difficult life changes or want to accomplish specific goals.
BetterHelp has strong requirements for therapists' education and employment history. Before interacting with patients through the platform, a BetterHelp therapist will have a minimum of three years and 1,000 hours of experience.
All of its therapists have a Master's or Doctoral degree and are licensed as psychologists, marital and family therapists, clinical psychologists, and social workers.
Ask for help now!
If you are more clear about your goals before starting online therapy, it will be easier to monitor your progress and ensure that you are getting the most out of the process.
Whatever your intentions, be sure to bring them up in your sessions and make sure your therapist addresses them.
You can communicate with a qualified professional through online therapy from anywhere in the world, saving money, time, and hassle from having to travel to a physical place.
In a large metropolis like Dubai, life can become quite chaotic and challenging. Online counseling could be quite beneficial for you whether you're a resident or an expat. It can also aid in bridging the therapist shortage.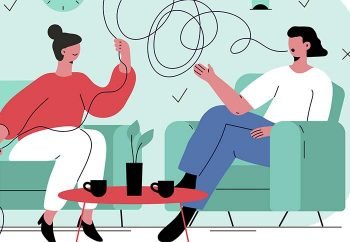 Need someone to talk to ?
We help you find your psychologist