Whether or not you're struggling in a romantic partnership, you might benefit from therapy. However, many couples aren't sure if it's the right time to start therapy. Perhaps you're wondering if you can solve your problems by yourself. Maybe you are at a breaking point and aren't certain whether therapy is worth it. If you're searching for relationship help online, answering a marriage counseling questionnaire can put you in the right direction.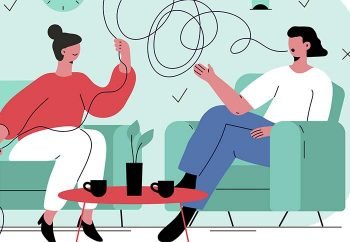 Need someone to talk to ?
We help you find your psychologist
How to take a marriage counseling questionnaire online
Regain is an online platform that offers relationship therapy. The platform hosts thousands of therapists who are experienced with marriage counseling. It also provides a questionnaire that allows you to pinpoint the exact problems in your marriage.
By completing the marriage counseling questionnaire online, you will become clearer on the issues that are plaguing you. If you're not sure what the problem is but know that something needs to change, filling out the questionnaire will allow you to be matched with one of Regain's therapists so that you can pursue counseling with your partner or individually.
What kinds of issues can marriage counseling help with?
Marriage counseling can strengthen relationships. It pairs you with an objective party that can listen to your troubles and offer advice.
Sometimes, communication issues between couples interfere with communication. A counselor can help you learn how to talk to one another in a constructive way. You will learn how to speak more clearly and get your point across without being hurtful to your partner.
A marriage and family therapist can also help you learn how to listen to your spouse. After you have been with someone for a while, you might not realize that you have stopped listening to what they are actually saying. Perhaps you are harboring hurt or resentment, and you can't overlook the deep pain that comes up every time that you try to have a meaningful conversation with your partner.
Other issues can significantly impact a relationship as well, including:
• Sexual difficulties
• Parenting-related problems
• Addiction and substance abuse
• Anger issues
• Infidelity
• Lack of loving feelings
• Increased tension
A Regain therapist can help you and your partner work through the problems that you're having. Sometimes, the issues might be individual. Often, the issues require both partners to attend therapy together. While working with a marriage counselor can improve your relationship, it can also help you get clear about whether the relationship needs to end.
How to take a marriage counseling questionnaire online
If you're interested in taking a marriage counseling questionnaire, visit Regain.us. Click on Get Started to begin the questionnaire. You'll be asked whether you'd like to participate in therapy individually or with your partner.
Then, you'll be asked a series of questions about your relationship and the improvements that you'd like to see. Take your time when coming up with your answers. The multiple-choice format provides plenty of options to choose from. Reading through the potential answers may help you define your marital problems.
As you progress in the survey, you'll answer questions about the type of therapist that you want to work with. You can select your preferred characteristics, such as:
• Gender
• Age
• Political and ideological leaning
• Religious affiliation
You can also specify whether you don't care about any of these characteristics.
The questionnaire will continue to ask questions about your relationship and financial status to help pair you with the best counselor and membership plan.
After you have submitted the questionnaire and created a free account, you'll be paired with a counselor. This often takes a few hours, but it may take a couple of days.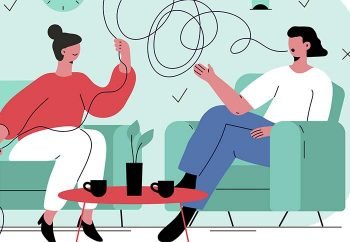 Need someone to talk to ?
We help you find your psychologist
Questions your marriage counselor may ask
Once you have paid for your membership plan, you can begin communicating with your therapist. You'll be able to message your counselor as often as you would like. You'll receive a reply to each message within 24 hours. All of the messaging takes place through the website or app, and the text is saved so that you can refer to it later.
This written communication takes place in a private, secure "room" on the platform. If you choose to participate in therapy with your partner, you will both have access to this room. So will the therapist.
You can all send and respond to messages at your leisure. In time, you'll begin to develop a pattern with your therapist. Some clients prefer short messages and frequent communication. Others prefer to send longer messages less frequently.
When you do begin working with your therapist, it's likely that they will ask you several questions about your relationship and personal issues. It helps to be prepared for the types of questions that they may ask.
Some common questions that marriage counselors ask include:
• Describe how you fell in love – Doing this can help you get back to the source of your attraction and intimacy. It reminds you of the things that you love about your partner if you have been focusing on the negative for some time. This question can also give you an idea of what you can do to bring back that feeling of love and attraction.
• What do you love about your partner now? – Answering this can help you decide whether your attraction has shifted. If it has, you might need to come up with new solutions for keeping the spark alive.
• What are you unsatisfied with in your marriage? – Although you have probably had several discussions about this topic with your partner, perhaps you have been assigning blame or expecting the issues to resolve themselves quickly. A therapist can help you reframe your dissatisfaction and suggest techniques for improving it.
• Why do you want this partnership to work? – Focusing on your goals and purpose for the relationship can help you get past the troublesome blips that occur along the way. This question may also help you clarify whether you want to pursue the relationship or end it.
• What has been the biggest change in the relationship? – Couples often find themselves struggling, but they don't know how they got there. Answering this question with a therapist allows you to identify the facts that you may have overlooked while trying to maintain your balance. Those facts can lead you to a resolution.
• Do you trust your partner? – Trust issues are significant and must be dealt with to ensure a solid partnership. Being able to open up about what you need to feel safe may improve your interactions with your spouse.
• What do you need to feel more loved? – Many clients are so dissatisfied with their marriage that they haven't taken the time to uncover what they truly need to feel loved. Answering this question can help you put a plan in place to improve the feelings of love and affection within the relationship.
Therapists may also ask questions that help you get to know your partner. Although you may feel very comfortable with your spouse, you may not have the same curiosity about them as you did when you met. Talking as if it were your first date could help you learn more about your partner and deepen your connection.
https://www.youtube.com/watch?v=0iId4PP_2bo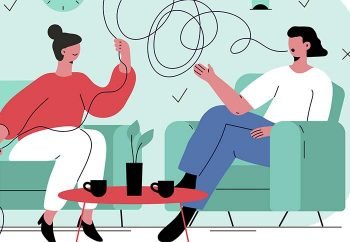 Need someone to talk to ?
We help you find your psychologist