Online therapy, also popularly known as e-counseling, is gaining popularity due to the ease of use and anonymity that it provides to the client.
Licensed mental health care professionals provide mental health and counseling services via video conferencing, email, or virtual reality technology during your online therapy sessions.
Suppose you and your partner commit to finding a service that helps solve your relationship problems.
In that case, online marriage counseling is just what you need because e-therapy is an excellent option if it is difficult for you and your partner to see a therapist in person at the same time.
E-therapy is also beneficial for couples who are in a long-distance relationship. Under such circumstances, reliable and effective online counseling will address the issues to help eradicate the barrier between the couples.
This type of psychotherapy also focuses on resolving behavioral issues that may jeopardize the relationship. Couple therapy positively impacts 70% of couples receiving treatment. You can read this guide to learn more about online marriage therapy to have peace of heart and mind.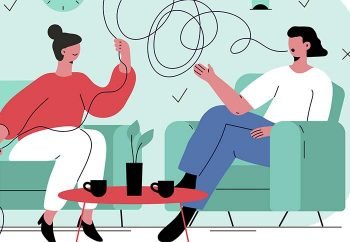 Need someone to talk to ?
We help you find your psychologist
Taking the first step
With the recent global lockdown due to the COVID-19 pandemic, online therapy became the only option for many who are seeking help.
Today, if you also wish to gain the benefits of therapy without experiencing the pressure of in-office therapy sessions, you can sign up for the platform online.
Signing up on an online platform is the first step to resolving conflicts that negatively impact your relationship.
Moreover, e-therapy is much more affordable as compared to in-office counseling sessions. All you have to do is take a survey to find a mental health professional that suits you best.
According to a 2020 study, most couples receiving online therapy reported that the physical distance between them and their therapist made them feel more comfortable.
They also felt in control of their relationship. Therefore, if you sign up for online therapy to resolve your marriage conflicts, the chances are that it will work out for the better.
Did you know that online therapy sessions involve new techniques that constructively handle conflicts to help improve communication between you and your partner?
Through these techniques, you will experience a re-engagement in the relationship. As a result, you will develop a new foundation for your marriage.
So if you wish to benefit from online marriage therapy, you can read below to find various platforms to sign up for marriage counseling.
Findyourtherapy
If you have learned that outside help is beneficial to explore and resolve conflicts that negatively affect your relationship, then it is time to research psychological advice.
Through various online platforms such as Findyourtherapy, you can research various problems like agoraphobia, sex therapy, low self-esteem, eating disorders, and even privately search for a therapist from the comfort of your home.
This is precisely why thousands of people turn to Findyourtherapy.com to research qualified mental health articles and content.
Here are some of the benefits of using online psychologists:
No waiting period
100% anonymous and secure
Available 24/7
Experienced and licensed mental health professionals
You can cancel anytime
Convenient and effective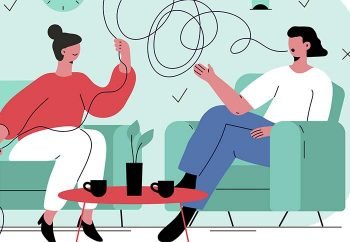 Need someone to talk to ?
We help you find your psychologist
BetterHelp
BetterHelp is an online platform that provides access to mental health services by linking users with licensed mental health professionals. In addition, they provide therapy services via phone and text communication.
BetterHelp was founded in 2015. It has become one of the most successful online platforms for therapy. In addition, their online counseling services are affordable and convenient.
Also, BetterHelp provides highly accessible services so that you can access them from anywhere, anytime. When you click on the website, you are greeted with the following words, "You deserve to be happy."
Below that, the website asks what kind of therapy you are seeking. For example, if you are interested in couples counseling, BetterHelp directs you to associate companies like ReGain.
The signup procedure is effortless as all you have to do is answer a series of questions about your age, gender, religious preferences, and sexual orientation, followed by a questionnaire involving your mental health.
For example, are you feeling anxious or depressed, or do you struggle with sleep?
When you answer these questions, you have to create a private account. Then BetterHelp sends you a verification email. Once you verify your account, you can log in to answer a set of questions about your preferences regarding a therapist.
An algorithm chooses a therapist for you. Then you can sign up to pay for the sessions. If you cannot afford therapy, then BetterHelp will let you apply for financial aid at this step, making it easier for you to continue your sessions.
ReGain
ReGain is a relationship-focused online therapy company that was founded in 2016. Established by the parent company BetterHelp, ReGain also focuses exclusively on making couples counseling extraordinarily convenient and accessible.
ReGain specializes in online marriage counseling. All the board-certified therapists, social workers hand marriage counselors are trained to address relationship issues. Since ReGain has a large staff, it is easy for you to find a therapist who meets your needs.
Like all online platforms for therapy, ReGain also has virtual therapy sessions with multiple communication methods and flexible scheduling. In addition, the sessions are relatively affordable.
Once you sign up, you will have to complete a series of questions that will help the algorithm to choose a therapist that meets your needs. However, if you are not satisfied with the match, then you can request a new one.
Once you find a suitable therapist, you and your partner will use a joint account to communicate with the therapist.
You can communicate via chats, video sessions, or phone calls. The best part about ReGain is that it gives you the option of staying completely anonymous.
There isn't a set number of appointments. So you are allowed to schedule the frequency of your sessions. You can also leave a message for your therapist at any time.
You can also speak to your therapist privately in the absence of your partner. The subscription also comes with ease of cancellation, making it easy for individuals to seek help via ReGain.
Talkspace
Talkspace offers online therapy for a range of mental health issues, stressors, psychiatric evaluation services, and medication management. This also includes couples therapy.
Talkspace motivates you to talk to your partner about the unresolved issues you wish to work on in couples therapy. You have to complete a consultation process to find a therapist who suits your needs.
The therapists help you identify your issues and help resolve them, restoring trust and empathy. In addition, they help you work on your relationship dynamics to solve conflicts.
You are allowed unlimited texts, video, and audio messaging. You can also purchase plans that allow live sessions. Overall, Talkspace is affordable and highly accessible.
Specialist services
Specialist Services are mental health services primarily for people with a severe mental disorder. These include schizophrenia, full-fledged eating disorders, bipolar disorders, ADHD, and various acute mental health conditions.
Specialist services provide tertiary-level care to such patients. The patients are diagnosed and treated by highly trained psychologists and psychiatrists specializing in the particular field of study.
These services also respond to people who experience acute levels of disturbances due to their mental health disorders. The disturbances may also include suicide intervention.
People diagnosed with schizophrenia, personality disorder, severe anxiety disorder, and several other situational crises may lead to self-harm or dangerous behavior.
Specialized services help provide intensive treatment and support during such acute phases to these patients.
Faithful counseling
Faithful Counseling is an online platform that aims to provide affordability and convenience of online therapy.
This platform brought together a network of professional therapists practicing Christians to provide mental health services to help the believers.
The members of this platform have a unique approach that helps incorporate spiritual practices into the therapy process.
Faithful Counseling allows you to connect to your therapist at any time. Their therapy sessions are not limited to scheduled time but rather extend to text-based therapy whenever your therapist is available.
Hence, it is convenient and comfortable to seek help via Faith Counseling. It is also more affordable than traditional face-to face-therapy. Moreover, you can always switch to another therapist when you want.
Don't give up!
Conflicts are inevitable in relationships, but conflicts with your loved ones are never entangled with a bloodbath. Since online marriage help is one click away, you can seek marriage therapy any time to save your relationship with your partner.
Couples counseling gives promising results. Thus, instead of giving up on your relationship, you should consider finding a straightforward way to attend online therapy sessions to find long-lasting relief.
Conclusion
Various platforms for online therapy help break down the stigma of getting help from therapists. Platforms such as BetterHelp and ReGain have made counseling much more accessible for everyone.
As a result, clients have easy access to an expert therapist of their choice that helps them via video sessions or through messaging. These platforms help save your marriage at an affordable price, granting you long-lasting peace by solving conflicts.
https://www.mayoclinic.org/tests-procedures/marriage-counseling/about/pac-20385249
https://www.aarp.org/home-family/friends-family/info-2020/marriage-counseling.html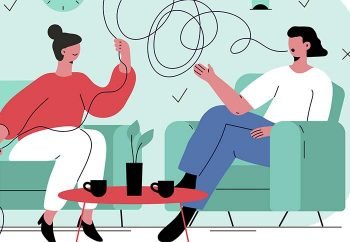 Need someone to talk to ?
We help you find your psychologist