The pandemic caused everyone to avoid coming in contact with people they don't know, and many are still following that rule. This presents problems for those experiencing mental health issues because they often need the services of a professional, and this requires meeting the professional in his or her office. Technology makes it possible during these difficult times to have phone counseling sessions for those in need of therapy, but people are concerned that over-the-phone therapy is not as effective as face-to-face therapy. After considering this question, we will see where we can obtain over-the-phone therapy so that you can receive the therapy that you need.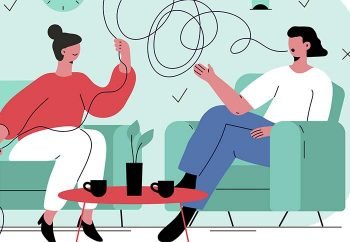 Need someone to talk to ?
We help you find your psychologist
What is an over-the-phone therapy session like?
BetterHelp is one online portal that provides over-the-phone therapy sessions for people. When you meet with a therapist, the things that happen during a face-to-face session are the same things that occur during over-the-phone therapy. This means that you will receive the benefits of therapy from an online therapist that you would get from a traditional therapist. This must be stressed because people believe that an over-the-phone therapist is not a "real" therapist.
A remote therapist is educated, trained and experienced in providing therapy for patients in a remote setting and a traditional one. Therefore, your therapist will conduct your online therapy session in the same way that he or she conducts traditional therapy. The most notable difference is the fact that you will not see your therapist in person. Secondly, you can remain at home or anywhere else that makes you feel comfortable.
During your first session, your therapist will need to get to know you. He or she will ask you why you are seeking therapy and why you are having difficulties living your life. Your therapist has several techniques to offer you to help you address these issues, so he or she can provide you with one technique or method at a time. If one doesn't work well for you, you will be able to move on to the next one.
At the end, it is customary to discuss what you thought about the session. Your therapist may also give you "homework" that will help you practice any new skills you learned. The therapist may also suggest topics that you may wish to discuss in the next session.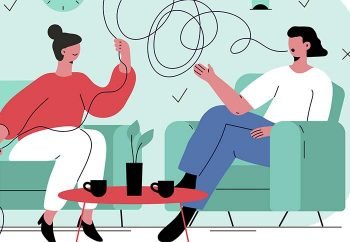 Need someone to talk to ?
We help you find your psychologist
What can over-the-phone therapy do?
You can address the same issues during over-the-phone therapy that you can address in traditional therapy. These include the following:
Mourning for a loved one
The reasons that you feel stressed
The inability to sleep
Post-traumatic stress disorder
Feelings of inadequacy
Depression
Anxiety
This is only a partial list. Remote therapists can help you overcome many more issues than just the ones listed above.
Is phone therapy as effective as traditional therapy?
The University of Cambridge wanted to know the answer to this question, so researchers conducted a study. The study examined 39,000 patients, and they discovered that over-the-phone therapy was equally as effective as traditional therapy. One segment of this population did not fare as well, but these subjects had been diagnosed with serious mental conditions, such as clinical depression and schizophrenia. The rest of the population was only suffering from mild forms of anxiety and depression, and the health of these people significantly improved with over-the-phone therapy.
Although researchers could not definitively state the reason that over-the-phone therapy is as effective as traditional therapy, they did suggest that the reason may be because the benefits of therapy are in the patient's ability to talk to his or her therapist. It doesn't seem to be necessary for both parties to be in the same room.
What are the advantages of therapy over the phone?
The advantage of remote therapy is in the fact that it is much more affordable than traditional therapy. The states of Washington, Montana, South Dakota, Arizona and Missouri fail to meet the mental health needs of their residents. If someone needs to see a therapist, the costs are prohibitively expensive because they do not have health insurance. Traditional therapists charge between $65 and $250 for one session. Although the 2008 Mental Health Parity and Addiction Equity Act increased health insurance coverage for mental health treatment, people are still unable to receive affordable care.
In addition to the cost of therapy making it impossible for people to obtain therapy for mental health issues, there is also the fact that many treatment centers and clinics only exist in urban areas. Those in rural areas do not have the same access to care as the rest of the population.
The fact is that many therapists don't accept commercial insurance, so if people can find a therapist near them, they cannot afford to pay the price. At BetterHelp, therapists do not accept insurance either, but the prices they charge are so affordable that people can take advantage of this therapy without health insurance. Therapists charge between $60 and $90 every week, and clients can request to meet with their therapists several times in the week if they need to do so. After four weeks, the system charges the patient's credit card or PayPal account.
In addition to the affordable price, the therapist's location does not keep clients from meeting with a therapist. Therapy sessions are held over the phone, so those in remote areas without access to traditional treatment can have it in their own homes.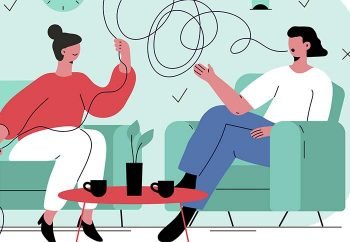 Need someone to talk to ?
We help you find your psychologist
Are there disadvantages?
Online therapy also has some disadvantages. You may have a good health insurance plan that will cover therapy with a traditional therapist. If you wanted to try therapy with BetterHelp because you live far away from a treatment center or clinic, your insurance plan may not cover the cost. If you don't have sufficient cash in the bank, the cost of your therapy sessions may add up quickly without insurance to help. Although online therapy is much less expensive than traditional therapy, you still may need to use your insurance to cover some of the costs. This will not be an option for therapy that is over the phone because online therapists do not usually accept insurance.
Therapists with BetterHelp are licensed to provide services in their states. A therapist would be required to also be licensed in your state to be able to offer you his or her services. If the therapist you would like to see isn't licensed in your state, you wouldn't be able to see that person.
There may be the possibility of a crisis in your future. If this were to happen and your therapist is miles away from you, he or she wouldn't be able to respond to it. As a matter of fact, the BetterHelp website strongly suggests that you not use it if you are in a crisis. BetterHelp also declines to provide you with a therapist if you have been diagnosed with a serious mental health condition.
How can i find over-the-phone counseling?
Finding over-the-phone counseling is easy. BetterHelp is an online portal that provides over-the-phone counseling for people. You will need to sign up for the platform to be able to take part in over-the-phone therapy sessions. In order for the system's algorithm to match you with an appropriate therapist, you must take a questionnaire. The questionnaire allows you to tell the system about the problem you are having. It also asks you personal questions about yourself so that the system has a full picture of who you are. Then, it can recommend the right therapist for you.
After the system chooses your therapist, he or she will send you a message, and you can set up your first appointment. You have the option of choosing to have your sessions over the phone, but you can also decide to have a live chat session or a video session. If you decide that you would rather have your therapy session on a different platform, you are free to switch to that other platform.
You are welcome to use a landline or your cell phone for your therapy sessions. The day of your appointment, you will log into the therapy room. The system will call you so that no one ever has to know your phone number. You will be connected with your therapist, and your session will begin.
Over the phone counseling
In general, people are in favor of "seeing" medical professionals over the phone. It is highly beneficial to people because they don't have to spend as much money on traveling to their appointments, and it also means that there is less time spent waiting. They also have an increased number of opportunities to speak with their providers. This form of communication is especially beneficial to people living in rural areas because they tend to be farther away from their providers than those living in urban areas. Consultations over the phone also keep many people from going to the emergency rooms.
Conclusion: Finding over-the-phone therapy for me.
Many people are at a disadvantage because they don't have access to mental health therapy. The problem is compounded by the fact that insurance policies do not necessarily pay for these types of services. Over-the-phone therapy is the solution for both of these issues. For one, people can be anywhere and receive the therapy they need for their problems. Second, over-the-phone therapy is much more affordable than traditional therapy. If over-the-phone therapy is right for you, it is easy to find. All you need to do is perform a search on the internet, and you will find BetterHelp or one of the other online portals for mental health therapy.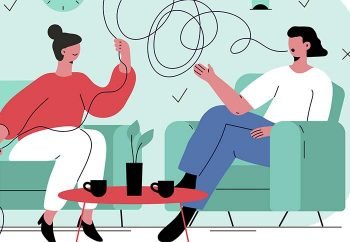 Need someone to talk to ?
We help you find your psychologist